Vietnam's tourism rate has been spiking over the past few years with travelers from Australia and all over the world flocking to see the country's natural beauty. So, what makes Vietnam so spectacular? We provide you with the best places to visit in Vietnam as a tourist.
Da Nang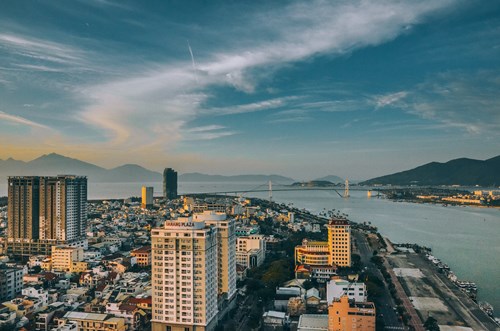 Da Nang can be described as Vietnam's coastal city. With impressive waterfront ocean views and luxury resorts, it's a popular destination for tourists and locals alike. There are many things to do and see in Da Nang.
If you're feeling outdoorsy, visit the Marble Mountains and see the amazing caves. Rich with history, you're bound to learn something new. If you're an adventurous and sporty traveler, you can also opt to hike to the top of the mountain through the caverns or up some stairs. Heavens Gate meets you at the top and you won't be disappointed with the view.
What's Da Nang without its beaches? If you have some spare time during the day, visit one of Da Nang's beautiful beaches and capture that beachy breeze. Being on the coast of Vietnam, the beaches are plenty, so just head to your nearest one for some relaxing time in the sun. Purchase a coconut to sip on while you lay there and let your worries float away with the waves. 
A trip to Da Nang isn't complete without seeing the iconic Dragon Bridge. We recommend visiting here at night. You're able to walk across the bridge on foot or hail a cab or Grab to drive you across. If you happen to be there on weekends, you're in luck! The Dragon Bridge show featuring an array of lights and fire will be on display, so make sure to check it out if your timetable aligns!
Ba Na Hills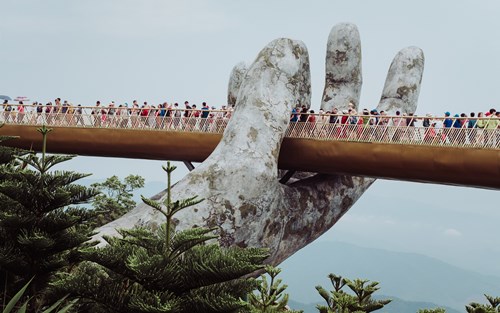 You may have heard about Ba Na Hills from the iconic Golden Bridge attraction. A beautiful city in the sky, Ba Na Hills has rightly claimed its spot as one of the must-visits when you're in Vietnam. There's plenty to see, do, and eat here that you would probably have to clear out a whole day to check everything out!
The cable cars that take you up to Ba Na Hills and back down will provide you with the best views of the mountains. If you can, try to avoid going during foggy or cloudy weather as this may obstruct your views. Once you're at the top, take a moment to breathe in the fresh air and admire the European style influenced architecture. There's really nothing else like it in Vietnam.
To start off easy, take a stroll through the French village. There's a tonne of history to be learned and you'll be able to appreciate the man-made buildings that make up the European resort atop a mountain. For all those A-list fans, there's also a Wax Museum that you can visit.
For the kids and adults alike, there's an underground theme park for all ages to enjoy. Here you'll be able to find exhilarating rides for the thrill-seekers and also family-friendly rides for the young ones. You're surely able to spend a few hours here, especially if you've got kids, so take your time exploring the underground park.
There are also numerous restaurants to choose from in Ba Na hills, from quick eats to premium gourmet meals and also buffets for those who are especially hungry! The cuisines vary, so make sure to walk around a bit and take in all the options before settling your stomach on one!
Lao Cai & Sa Pa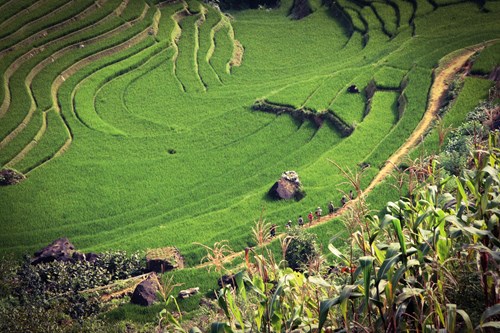 Sa Pa is a must-visit destination in Vietnam. Located in the far north in the Lao Cai district, it's out of the bustling cities and more immersed with nature. Catch a bus up the mountains to reach Sa Pa, a green paradise rich with history and the perfect place to take that perfect insta-shot. Make sure to visit during the dry seasons as foggy or cloudy weather may affect your views heavily.
Sa Pa is mainly inhabited by the Hill tribes, such as the Hmong, Tay and Dao. Walking around Sa Pa, you may come across children from these tribes who will not be afraid to approach you and sell you nifty crafts like handmade bracelets and keychains. They cost next to nothing and make the perfect gift for souvenirs so don't be afraid to make these children's days and purchase a few to bring back home.
Make sure to walk around and just take in the surroundings. There is plentiful to see so visit some lookouts, walk through some shallow waterfalls and visit the local markets. During the peak tourist seasons, Sa Pa may get a little overcrowded, but you can venture out of the main city to get the breath of fresh air and take some photos. Everywhere you turn is snap-worthy!
Ho Chi Minh City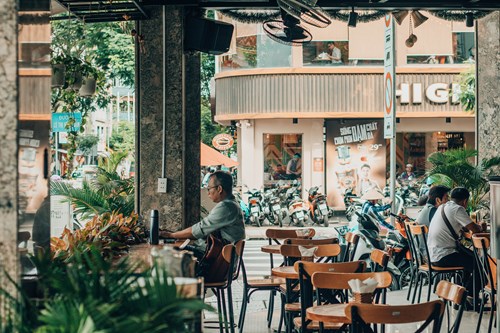 Ho Chi Minh City or Saigon is one of the biggest cities in Vietnam and a top tourist spot as well. There are many things to see and do in this city, so put on your shoes and get ready for a day of sightseeing and eating!
To please your shopping and bargaining needs, head to Ben Thanh Market and put on your haggling hats. You can find a variety of things to buy here, from knock-off designer clothes and accessories to local souvenirs. Make sure to haggle, as the set prices are very high to try to get more money from unaware tourists.
Visit the Notre Dame Cathedral of Saigon. It's a huge cathedral right in the middle of the city, and spectacular religious landmark to be admired by everything. Walk through the cathedral to see the beautiful architectural intricacies.
Food in Ho Chi Minh City is vast and plentiful. You'll be able to find all the hot-picks of Vietnamese cuisine in this city. So, walk around and try some street food, and venture down alleyways into hidden restaurants to enjoy some authentic Vietnamese food.  
Hanoi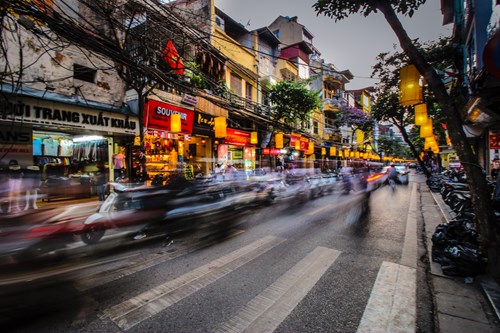 Ha Noi, the capital of Vietnam, is rich with history. The Old Quarter is a must-visit for all tourists. It's an area bustling with activity and food. Make sure to also visit the Đồng Xuân Market for some light shopping and indulge in some street food as well.
To explore and learn about the history of Vietnam, Thang Long Imperial Citadel and Hoa Lo Prison Memorial is the perfect place to visit. There are free walking tours of the city, so if you're up for a stroll, put on your walking shoes and make sure to join in on the free Hanoi Walking Tours.
To relax and chill out, visit the Hoan Kiem Lake. Bring along some food and some friends or family and enjoy a day out near the water. There are also many museums and shopping centres you can visit as well, so make sure you spend a few days in Hanoi to see it all!
Ha Long Bay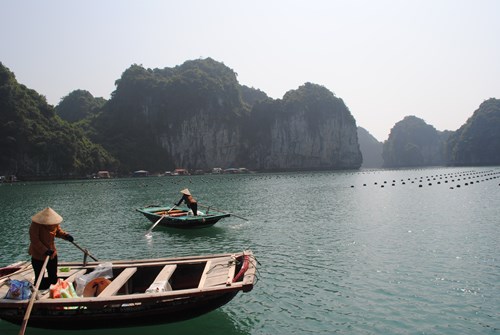 There's no better place to see the iconic Vietnam caves than Ha Long Bay. First, hop on the Ha Long Queen Cable Car at night to see the beautiful city lit up as you float over the bay. If you're the adventurous type, or if you're traveling with kids, make sure to also check out the Sun World Halong Park during the day time. It's an amusement park with water activities that is sure to have something for everyone in the family to enjoy.
Finally, hop on a kayak or a small boat to venture around Ha Long Bay. Explore the caves, rich with history and surely a sight you've never seen before. If you're feeling a little fancy, you can even opt for a cruise boat ride. Travel around in luxury whilst taking in the beautiful and breathtaking views. A very popular spot amongst tourists and locals alike, Ha Long Bay is a must-see destination.
Check out our Vietnam tours at CBT Holidays where we will take you to all the top spots in Vietnam.